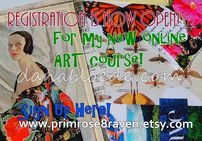 My new ART e-course!

---
---
---

Welcome to the Shabby Chicas online ART course!
If you've signed up and paid for the course, you will be able to access the below videos with the PASSCODE information I've provided you! Access information will be sent to you via email within 24 hours of signing up! Thank you so much for joining me on this portrait painting journey! Happy painting everyone!! Whoo!!
***CLICK EACH VIDEO CONSECUTIVELY 1-9 to view entire course!***

---
To sign up for my online art workshop, please go to my Etsy shop to purchase.
Any questions? Please message me via Facebook, my Etsy shop, or Email me at danabloede@gmail.com or primroseraven@yahoo.com
SIGN UP HERE
http://www.primrose8raven.etsy.com
---
COURSE DESCRIPTION
This course includes creating a Dana Bloede styled painting, from start to finish, and everything in between, with vibrant and fun instruction videos & content. You will make one large, mixed media, detailed & distressed "shabby" styled painting including 2 FUN bonus videos. All videos are downloadable with lifetime access (or for as long as I'm in business).
Note: please click on the "Registration is Open" video to make sure your computer and internet browsers are set up properly to watch and/or download my videos, thanks!
Supplies:
Gesso (black or white)
16x20 or 18x24 canvas (any brand, any style)
Mod Podge or Matte Medium (glues)
Old credit card or pottery tool scraper
Latex or rubber gloves
Collage papers (a variety) or you may purchase some from me,
http://primrose8raven.etsy.com
Paint brushes (inexpensive variety pack)
Old jar or cup to hold water
Old rag or discarded t-shirt to wipe paint off
Water spray bottle, 1 sheet of sandpaper
Masking tape or cookbook holder, to hold up your reference images while you work
Paints, any colors or brands you'd like, including white, black, pinks, yellows, blues, greens, reds, oranges, please pick out your favorite colors and a few extra you'd not normally choose! Some notable brands: Folk Art paints, Golden, Liquitex.