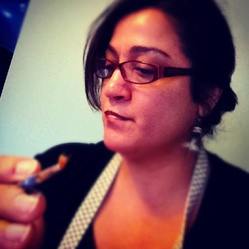 I'm an artist, maker, painter, instructor, curator and creator of beautiful things.
I spend my days painting in my tree house studio where everything is peaceful and serene. Each painting tells an untold story about women in a way that words cannot. Captivated by forests, most of my paintings have a serene narrative with a soulful message. My paintings are poetic, expressive and delightfully aged to obtain an old world charm. When I'm not painting, I like to share my love of art by teaching arts & crafts to seniors and traveling with my husband and son. I paint every day with a grateful heart & firmly believe kindness is always the answer. Contact me with questions at any time! Email:
primroseraven@yahoo.com
---
A list of some of the cities, states, continents and countries my paintings live!
Oregon, Utah, Iowa, South Africa, Australia, Texas, Kansas, California, Arkansas, Maine, Massachusetts, London, Birmingham, Boca Raton, Florida, Switzerland, Michigan, The Netherlands, Canada, Alabama, Washington, Brooklyn, New York, Colombia, Tampa, Germany, New Delhi, India, Oak Park, North Carolina, New York City, Miami, New Mexico, Chicago, Savannah, Georgia, New Jersey, New Hampshire, Virginia, Riverside, Minnesota, Ann Arbor, Sarasota, Italy, Indiana, Beijing, China, West Stockbridge, St. Pete Beach, Austin, Barrington, Rhode Island, and Malta (a group of islands in the central Mediterranean between Sicily and the North African coast in Europe.) I am beyond grateful and honored! It's been a wild ride!